Itsukushima Shrine is the symbol of Miyajima
located in Seto Inland Sea.
The scenery of the vermilion colored shrine building,
which was rebuilt in the Heian era,
changes with the rise and fall of the tides.
At high tide,
the shrine building looks as if it is floating on the ocean.
At low tide, you can walk up to and see the gigantic "O-torii",
or the shrine gate.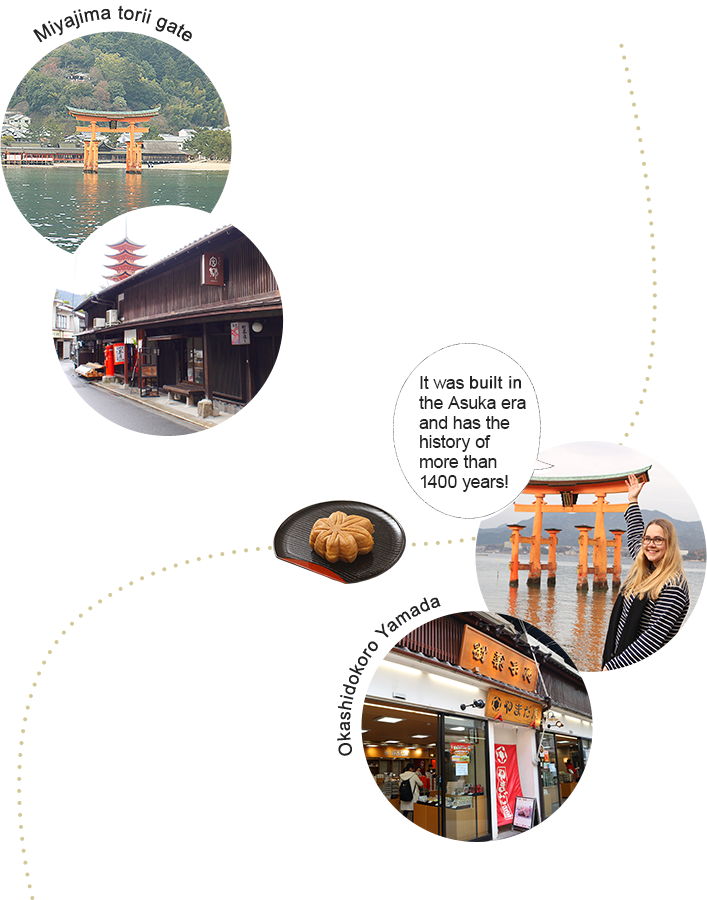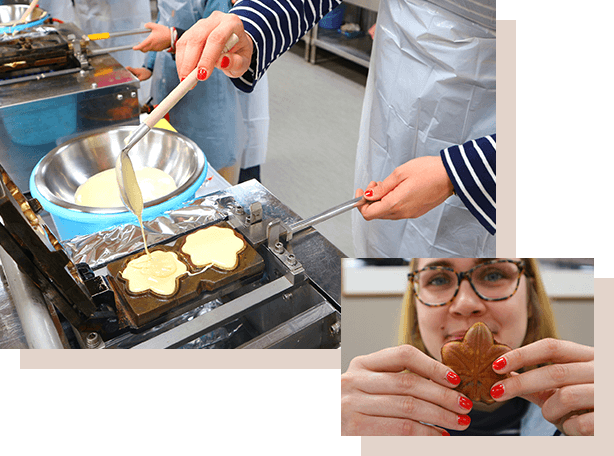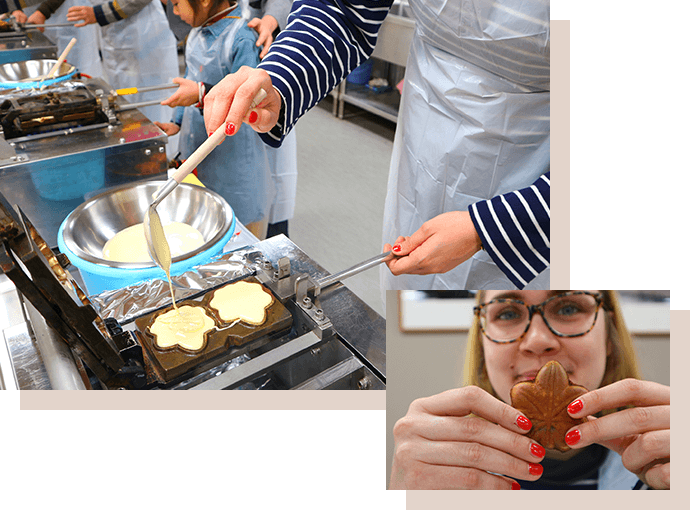 "Momiji manju" (a steamed bun shaped like maple leaf)
is one of the famous souvenirs of Miyajima.
The steam bun is made of sponge cake dough shaped as momiji
which is the prefectural flower and tree of Hiroshima.
There are various tastes such as red bean paste and custard.
In the hand-making experience,
not only you get to know how to make it,
but also you get to learn the history and particularity of it.
You should definitely participate as one of the memories in your trip.
ACCESS
Itsukushima Shrine

Address:

1-1 Miyajima-machi, Hatsukaichi city,

Contact:

0829-44-2020

Opening Hours:

6:30 to 18:00 (Differ in season)
Open 365 days a year.(Closed at high tides)

Admission Fees:

Adult 300 yen, High school students 200 yen,
Junior high school and elementary school students 100 yen
(Not including the fee for the treasure hall)

Momiji Manju Handmaking Experience

Shop:

Yamadaya, Miyajima main store
(835-1 Miyajima-machi, Hatsukaichi city)

Contact:

0829-44-0037

(9:00 to 17:30)

Fee:

756 yen (Including a souvenir)
Reservations are accepted until the day before the experience. Ask at the store for reception on that day.

Access

JR Sanyo Main Line to Iwakuni
Hiroshima Station to Miyajimaguchi Station (About 30 minutes 410 yen)
Transfer
JR West Miyajima Ferry
Miyajimaguchi Pier to Miyajima Ferry Terminal (About 10 minutes 180 yen)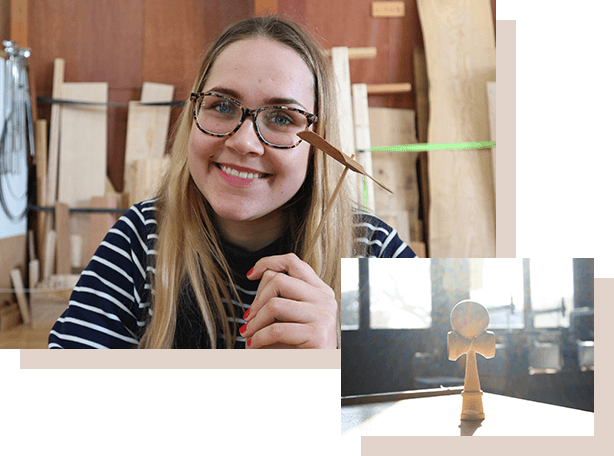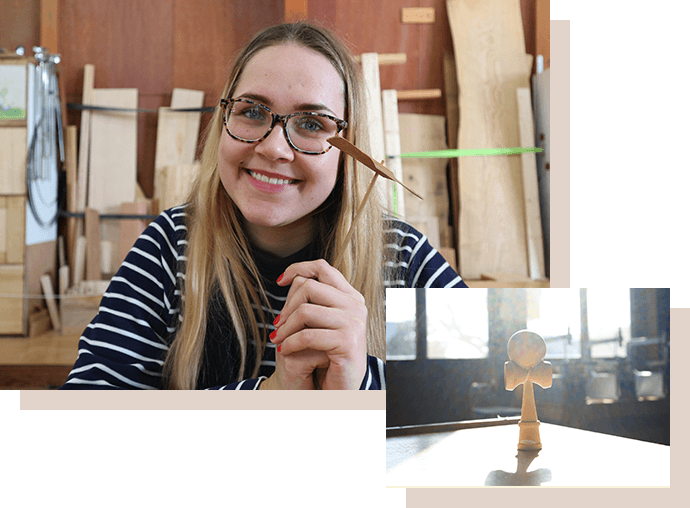 The Kendama which is widely known today was created in Hatsukaichi city in the Taisho era.
As the lumbers, which were cut down from the surrounding mountains, were gathered in, the city where has been famous for woodwork for a long time sparked Kendama boom around Japan.
This place sparked Kendama boom around Japan.
in the city's "Lumber Utilization Center", you can observe the production process of Kendama and enjoy various woodwork experience.
Skilled craftsman creates each of them by hand.
It can be purchased inside the building.
"Kendama World Cup" where the world's strongest competitors compete against each other, is held every year in July.

Inside the workshop building where there are various tools such as saws and hammers, a woodwork experience workshop is held. There are various themes such as a woodwork workshop for kids using lumber offcuts and Kendama painting. Contact the "Lumber Utilization Center" for dates and details.(0829-32-2393)
ACCESS
Hatsukaichi City Lumber Utilization Center

Address:

5-95 Mokuzaikouhoku, Hatsukaichi city

Contact:

0829-32-2393

Opening Hours:

9:30 to 16:30
Closed on Mondays, holidays, "Obon" (festival of dead) period, and New Year's holiday

Access

Hatsukaichi city sakura bus east circular route (Sagata route)
Hatsukaichi city - Yume town Hatsukaichi (About 8 minutes 150 yen and about 14 minutes-walk from the bus stop)